Yelm's Popular Summer Events are (Mostly) Back in 2021
Pull up to Yelm City Park on July 24 and as you step out of your car, the first thing to hit you will be the smell. Saucy, sweet, spicy or a combination of all three, the odors wafting from the 2nd Annual Nisqually Valley BBQ Rally will be in full effect. That aroma is bound to gladden any carnivorous heart but even for non-meat lovers, event Co-chair and Yelm Chamber of Commerce President Dan Nicholson has a bold claim. "We guarantee smiles."
As pandemic-related restrictions continue to ease, more of Yelm's popular local festivals are coming back. This summer, the park will see multiple events featuring mermaids, jazz, and a continuous stream of local produce. "This city loves a good celebration," says Yelm Chamber of Commerce Executive Director Line Critchfield. "If we can have a hand in bringing that excitement to people, I'm all for it. We're going to do it a little bit differently this year, but safely and happily."
In May local coordinators met with a representative from the Washington Festivals & Events Association to determine which events could move forward safely, given the remaining uncertainty around health risks. "The WFEA has done a lot of work to translate state requirements into information that's easy to use," says Critchfield. "In accordance with the Healthy Washington Roadmap to Recovery, they've been making it easier for organizations like ours to hold these events."
The first event occurred May 6. people of different denominations gathered at the Yelm City Park for the National Day of Prayer celebration, an opportunity for faith leaders to offer prayers for the collective or for specific segments of the community. The rest of the calendar is as follows:
Yelm Farmers Market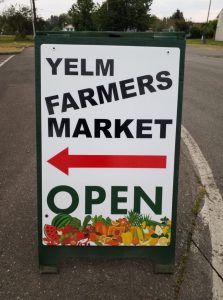 May 29 – October 30
With over 27 (socially distanced) vendors scheduled for opening day, the Yelm Farmers Market will offer a mix of local produce, artisan crafts and hot and cold food options. The new community garden planted within a hundred yards of the community center will allow children enrolled in the market's Power of Produce Kids Club to learn firsthand about gardening and where food comes from.
Mermaid Festival
July 17
In its second year, the Mermaid Festival will offer merfolk and mortals alike a chance to visit local vendors, sample children's activities and participate in a costume contest, one for adults and one for children. Fortunately, the park's Splash Pad will be open for any mermaids who need a quick dip.
Nisqually Valley BBQ Rally
July 24
This year's Nisqually Valley BBQ Rally will include a competition for both amateur and professional barbecue chefs, a pie-eating contest, a beer garden, live music and plenty of vendor spots for local businesses to promote themselves. One of the biggest lessons from the first rally: bring more food.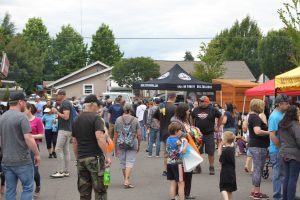 "In 2019, the event went until 8 p.m. and we ran out of food at 2 p.m.," says Nicholson. "This time, everyone knows to bring more than they think they can sell." The time has also shifted to coincide with the opening of the Yelm Farmers Market so that both groups can benefit from the crowds each attracts.
Yelm Jazz in the Park
August 6-7
Now in its fourth year, Yelm Jazz in the Park is the brainchild of Pizzeria La Gitana owner Marian Licxandru. He gathers jazz acts from around the Pacific Northwest and beyond and creates a Parisian atmosphere through string lights, a beer and wine garden, food vendors and plenty of hot jazz. This is the first time the event will be held over two days rather than one.
Nicholson believes that such events are more important now than ever before. "For all the organizations that will have vendor space, it's critical that people see that they're still operating, because so many businesses have closed," he says. "Beyond that, there's a lot of pent-up need for human interaction. Everyone is excited about what's coming."
Learn more by visiting the Yelm Chamber of Commerce website or calling 360.458.6608.