Yelm's Beloved Christmas in the Park is a Month-Long Event for 2020
First, the obvious. In the year 2020, Yelm's popular annual Christmas in the Park event will not look the way it has in previous years. There will not be a parade. School choirs will not perform for enthusiastic crowds and large groups will not be gathering in any form. But if the committee in charge of this year's event has its way, the celebration will achieve the same festive tone and unite the community in its usual fashion.
"Understanding that we have to adapt to how the world is right now, we decided that instead of creating a one-day event with many restrictions, we're making Christmas in the Park a month-long event," says Michael Malek, a chair of the Parks Advisory Committee and the lead member of the Christmas in the Park subcommittee. "We've created a calendar of the holiday season and we're going to work with other organizations to highlight the events they have going on."
The committee has developed ways to keep different parts of the community engaged. For students at Yelm Community Schools, the traditional gingerbread house contest will still occur, but in a different format. "We're going to have contestants take photos and submit them," says Malek. "There will still be entries and voting and prizes."
The district-wide holiday essay contest will also happen, with winners reading their essays in an adapted form. The theme this year is "Hope for the Holidays," a topic that encompasses the essence of the celebration, according to Malek. "We'll have educational opportunities to see how different people celebrate during this time," he says. "The essay prompt says it all. We want everyone to feel included and to know that we're here for each other."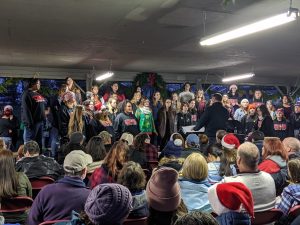 Music has always been a key component of the event, a fact the committee took into consideration. "We've worked closely with the school district to see if there is any way we can still bring that magical part of Christmas in the Park to this event," says Yelm Chamber of Commerce Executive Director Line Critchfield. "That is one aspect that will be different this year. We will have some music, but we're not going to hear from every class from the youngest students to high schoolers. That will be missed."
However, other activities will contribute to the festive ambiance. For the first time this year, local businesses will have an opportunity to participate in "Lights at Night," featuring large-scale holiday light displays in the City Park. "It's going to be so beautiful," says Critchfield. "People will be able to see them from the road as they drive by and also walk through and enjoy the displays. The businesses who have signed up are putting their creative minds to work."
Another new development: Holiday Selfie Spots. Any business can sign up to host a Selfie Spot in front of their company or near the entrance with a specific backdrop. The Yelm Chamber of Commerce will give away prizes to people who take selfies in those spots and post them with a hashtag of #yelmholidayselfie. "We needed a way to get people to those businesses," says Critchfield. "This is a way to remind everyone that they are there and ready for customers."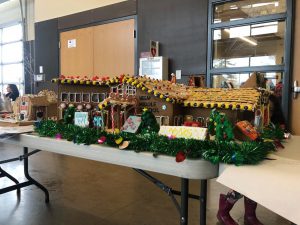 Tentatively, on Saturday, December 19, the group will collaborate with the Yelm Farmers Market to create a Night Market at the Yelm Community Center between 3:00 p.m. and 8:00 p.m. Normally, market hours are from 10:00 a.m. to 3:00 p.m. but this will be an opportunity to create a different atmosphere, says Critchfield. "It will be nice and dark and there will be a nip in the air," she explains. "The Farmers Market is doing their last market of the year on December 19th, so this was a partnership that made sense. They're taking the lead and we're marketing it and sending vendors their way." This even is dependent on Governor Inslee's orders after December 14.
The subcommittee in charge of the event includes volunteers from different sectors of the community such as the Parks Advisory Committee for the City of Yelm and the school district. "We're lucky to have this group of people working on it," says Malek. "It's exciting to see everybody coming together to create that magic that people associate with Christmas in the Park."
Learn more by visiting the Yelm Christmas in the Park webpage or contacting the Yelm Chamber of Commerce at 360.458.6608.

Thurston Talk
November 30, 2020
https://www.thurstontalk.com/2020/11/30/yelms-beloved-christmas-in-the-park-is-a-month-long-event-for-2020/