Yelm Farmers Market Hangs Tough to Serve Community Through Pandemic
In the week before the Yelm Farmers Market was scheduled to open, Manager Jon Jamieson got some unwelcome news. Based on the restrictions outlined by the Washington State Department of Health because of COVID-19, the market would have to operate for the 2020 season with just three vendors. At that point, the question arose: was it worth doing a market at all under those circumstances?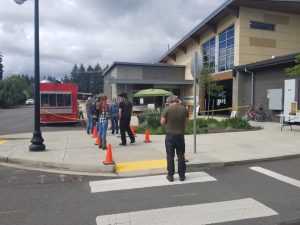 His answer was yes. Determined to make the season as successful as possible despite the challenges posed by the pandemic, Jamieson forged ahead, staying in constant communication with both the health department and the vendors impacted by its decisions. Ultimately, on opening day, 13 local businesses had booths ready to go and by July that number had grown to 21.
It's a different kind of season, one with modifications and restrictions, but everyone is making the best of it, says Jamieson. "Our vendors have been really understanding of the fact that we're dealing with things we can't control. They're working with us every weekend and they help out however they can."
Modifications include designated entry and exit points equipped with handwashing stations, social distancing markers throughout the Yelm Community Center, increased distance between booths, and masks for all vendors. Customers who don't have masks are provided free ones upon entry. The most notable change is the absence of the market's popular Power of Produce (PoP) program for children, which has been suspended for the 2020 season.
For the most part, shoppers have also been understanding, according to Jamieson. "Everyone is being supportive," he says. "They know that this isn't just about the farmers market, the whole world is dealing with this. We've had good attendance numbers considering the circumstances."
New vendors have joined popular favorites like Yet Xiong Flowers and Bee Forever Apiary this year. The Whistle Stop food truck offers hot sandwiches with whimsical names like Bigfoot, Wiffle Bird and Flying Saucer. Sponsor Sandstone Distillery, which is also donating a weekly supply of hand sanitizer, has introduced shoppers to Wildheart Sipping Vinegars. Kombucha Luv, Ice Chip Candies and the Spencer Cove Shellfish company are all new additions as well.
Even though shoppers are encouraged to maintain social distancing and keep their interactions short, the market plays a vital role in bringing the community together, says Yelm Mayor JW Foster. "Having that moment of human contact helps to stimulate emotional health. People need to come together in a healthy environment like the farmers market."
Bounty of Families (BFF) oversees the Yelm Farmers Market. The City of Yelm allows BFF to use the community center every week at no cost. That support has been critical in making the market sustainable, according to Jeevan Anandasakaran, BFF board chair. "The farmers market wouldn't exist without support from the city," says Anandasakaran. "They've kept the lines of communication open and helped us in any way they could, even when we weren't sure if we would be able to open. Because we can keep our costs so low, even with the restrictions this year we're doing as well as we have done in previous years, and that's important for the continuation of the market."
BFF also conducts the annual Gift of Gobble food drive and is collaborating with the Thurston Conservation District on a community gardens project.
From the city's perspective, the farmers market is an important service it can help to provide for residents. Yelm remains one of the fastest-growing towns in the state and as more people move to the area, the market is a place where longtime residents, newcomers and everyone in between can come together, even for a brief moment under current circumstances. "It's really important to work with our families and provide services like the farmers market," says Foster. "It's things like this that tie the community together."
Another benefit: food security. Although Thurston County grocery store shelves were never as bare as those in other parts of the state during the early stages of the pandemic, the need to stay home for prolonged periods brought home the value of a regional supply chain. "I think a lot of people have been seeing the importance of having a local food supply in the community," says Anandasakaran. "They've been making connections with local farmers, either through farmers markets or other outlets, to get their produce."
Now that artisanal vendors have been allowed to rejoin the market, shoppers have more options than they did earlier in the season. Jamieson encourages locals to keep showing up and supporting the market. "We have locally made products that our vendors take a lot of pride in," he says. "When you support us during this rough time, it means we can be here in the future and continue to offer these products to the public."
The Yelm Farmers Market is open every Saturday until October 25 from 10:00 a.m. to 3:00 p.m. at the Yelm Community Center. Learn more by visiting the Yelm Farmers Market website.

Thurston Talk
8/7/2020
https://www.thurstontalk.com/2020/08/07/yelm-farmers-market-hangs-tough-to-serve-community-through-pandemic/?fbclid=IwAR3vfm0skSHZRKjp-cJMmXclAflJaOXhVgCgWdY0OWJ0bvXAbNfd4f8sLbA