City of Yelm's Longest-Term Employees Love Their Work
During the ice storm of 2008, the function of Yelm's City Hall changed. Instead of being the place people came to renew their pet license or get a business permit, it served as a warming station for residents who had lost power to their homes. "We left the doors open for people to come in and get warm," says Michelle Christin, administrative assistant at the City. "We gave them coffee and hot cocoa. That's just how the City of Yelm works with our community."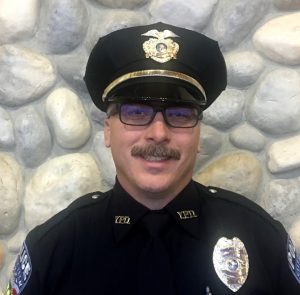 Michelle should know. She's been with the city since 2005 and is one of 15 long-term staff members, some of whom date their employment back to the early '90s. Of those, the police department has the greatest longevity, with 8 of its crew having served for 15 years or more.
Detective Bill DeVore is one of them. When he joined the force in 1995 as a reserve police officer, Yelm had just one blinking light in the center of town, and traffic was so minimal that officers could meet in their cars at the intersection to discuss cases. "There is no way you could do that today," Bill observes.
His first job was on the graveyard shift. From there, he rotated through the Yelm Police Department, became a school resource officer at Yelm High School, and then went back to the patrol beat before becoming a detective in 2014. Although the city has grown, many things haven't altered much in his view, including the nature of crimes committed and the tight community bonds. "Crime hasn't changed a lot," says Bill. "Obviously, when you get more people you get more crime, but that's why departments grow and expand so you can take care of those situations accordingly as they arise."
Local support for the department has always been strong and people feel comfortable approaching officers at events like the annual Prairie Days Parade. "They want to come and talk to us," Bill notes. "We've always been close-knit with our community. We try to give the best customer service and serve people, and I think that shows in the people that we hire. The fact that a lot of our department has been here for 15 years or longer, shows that it's a place where people want to stay and build their careers."
Michelle knew from the start that she was in it for the long haul. After working as a commercial loan processor for a bank, she became an accounting clerk for the city. "I just loved it," she says. "I've never wanted to leave or seek work elsewhere."
The employees at City Hall also couldn't imagine working there without Michelle. She has helped train many new employees over the years and has shaped the culture into what it is today. "When I first came on as the utility clerk, Michelle was here every day helping to guide me, teach me and feel comfortable in my position," shares Jennifer Beauchamp. "She is so patient and kind, transitioning into this job would have been a lot different if I didn't have Michelle to turn to. We all think the world of her and words can't explain how much she means to everyone working for the City of Yelm."
Over time she's worked for two mayors, three city managers and nine different directors. "They all had different leadership styles, so I was able to learn from each of them," says Michelle. She has seen the transition to paperless forms and streamlined job duties and had a few new responsibilities added to her plate, hence the title change to administrative assistant.
The switch to paperless hasn't been seamless for some of her older customers. Before COVID-19, she would spend time with them every month to walk them through the process. Now, they call in their questions, which is a bit more challenging.
One thing that hasn't changed: Michelle's passion for serving the community. "I like my customers," she says. "I've known a lot of them for over 15 years and I've built a rapport with them. I'm a people person, not someone who could sit behind a desk in a corner and never interact with anyone."
The other employees who have been with the city for 15 years or more include:
Rob Carlson (YPD) – 2005
Aris McClellan (Public Works) – 2004
Joel Turner (YPD) – 2003
Grant Beck (Community Development) – 2002
John Ivey (Public Works) – 2001
Ted Johnson (Public Works) – 2001
Tami Merriman (Community Development) – 2001
Ryan Edwards (Public Works) – 1999
Jared Geray (YPD) – 1999
Matt Rompa (YPD) – 1996
Stacy Fields (YPD) – 1995
Todd Stancil (YPD) – 1995
John Edwards (Public Works) – 1994
Donna McCann (YPD) – 1991
Notably, Police Chief Todd Stancil has been with the department for over 25 years. "We have a great crew," says Bill. "We have great administrators and people within City Hall. Really, it's a family. I hope it can stay that way, even though we keep growing."
Learn more about why Yelm is a great place to live and work by visiting the City of Yelm's website.

Thurston Talk
January 8, 2021
https://www.thurstontalk.com/2021/01/06/city-of-yelms-longest-term-employees-love-their-work/